At Champagne Hotel Angers, in addition to the modern and comfortable rooms for your nights, we have also thought about your days!
We are here for you and we offer many services. From organic breakfast to the Ecolabel and the Loire à Vélo label, our entire team is mobilized and available to make your stay with us unforgettable.
A champion's breakfast
For breakfast, the most important meal of the day, we have selected organic and local products to offer you the best of Anjou even before going out in the city!
An eco-friendly hotel
Choice of equipment, materials, breakfast products, etc.: Champagne Hotel Angers is committed to the environment on a daily basis, and we are proud to display the European Ecolabel.
A "Loire à Vélo" stopover
Champagne Hotel Angers is labelled "Loire à Vélo", in recognition of our hospitality policy. We have a secure bicycle shelter on ground level, a luggage locker, a well-adapted breakfast, a packed lunch… and special offers.
The services of Champagne Hotel Angers
Reception 24 hours a day, 7 days a week
Breakfast served in the dining room or in your room (products partly from organic farming) – (served before 6:30 am on request)
Dry cleaning service on request
Hypoallergenic pillows on request
Iron and ironing board on request
Taking telephone messages
Receiving and sending faxes
Reservations (taxis, restaurants,…)
Free WIFI Internet connection
Drinks (hot or cold drinks, snacks) can be served in your room 24 hours a day
Pets not accepted
Elevator
Bike rental (on request or nearby)
Free bike room (subject to availability)
Luggage storage
At Champagne Hotel Angers, breakfast, the most important meal of the day, is a serious matter.
We have selected products from organic farming and fair trade. Anjou is a land of gastronomy… and we have drawn on the resources of this fabulous terroir to offer local products as much as possible.
Set in a comfortable room with a contemporary decor, the buffet offers full breakfast: hot drinks and fruit juices, fresh fruit, yoghurts, ham, eggs, cereals, fresh pastries, bread, etc.
And to accompany all this, some fresh news in newspapers or on television.
For a gentle awakening, Champagne Hotel Angers also offers to serve breakfast in your room, on request (supplement €1).
Breakfast is served from 6:30 am to 10 am during the week and until 10:30 am on weekends and public holidays.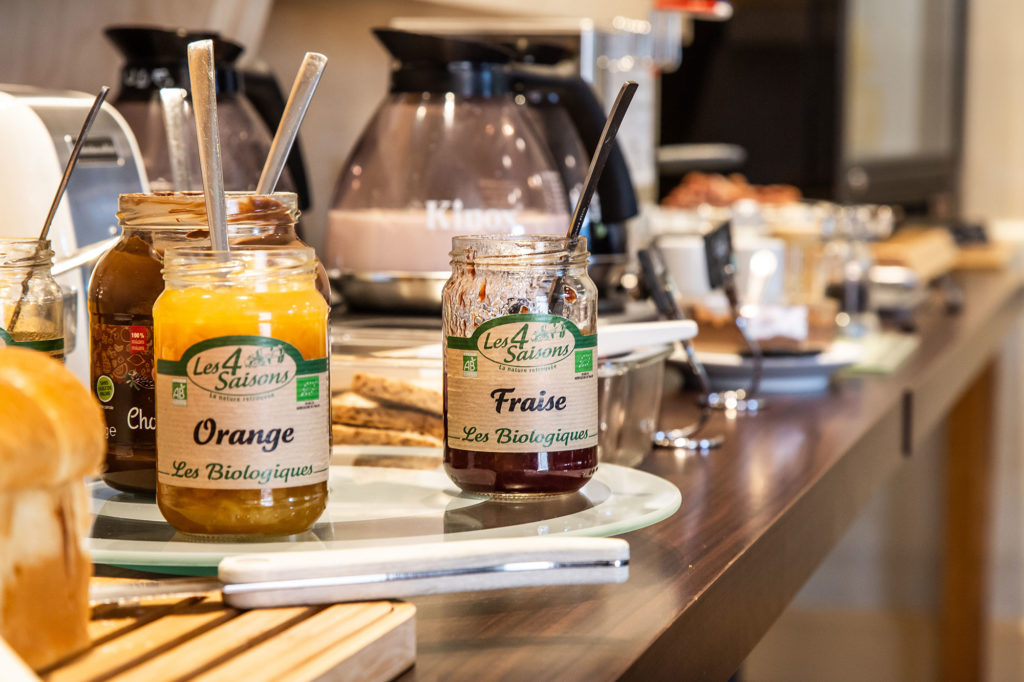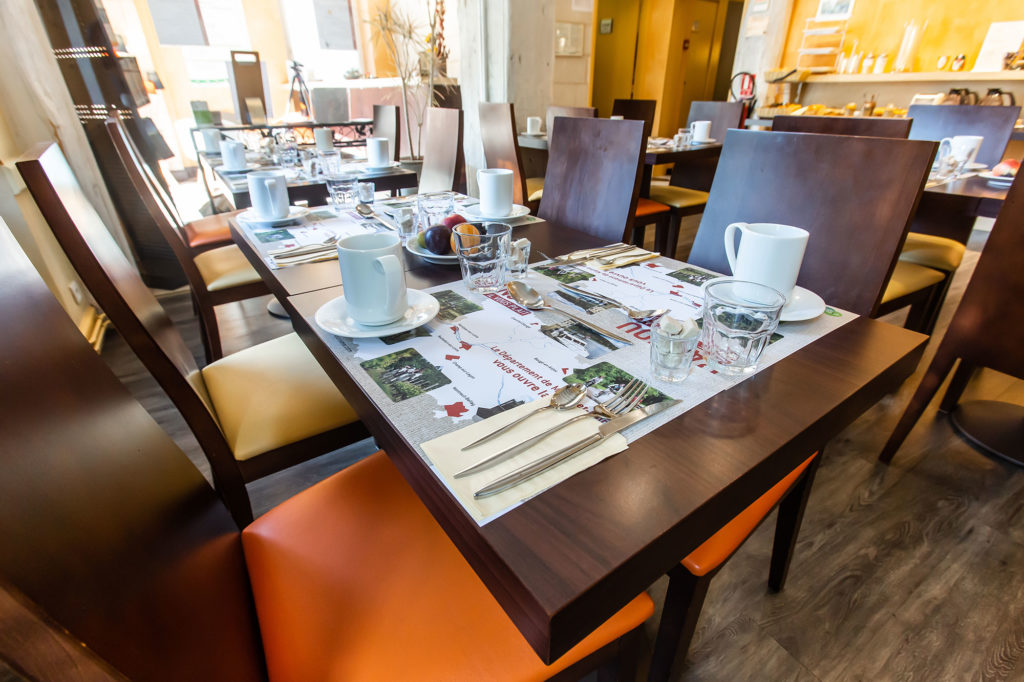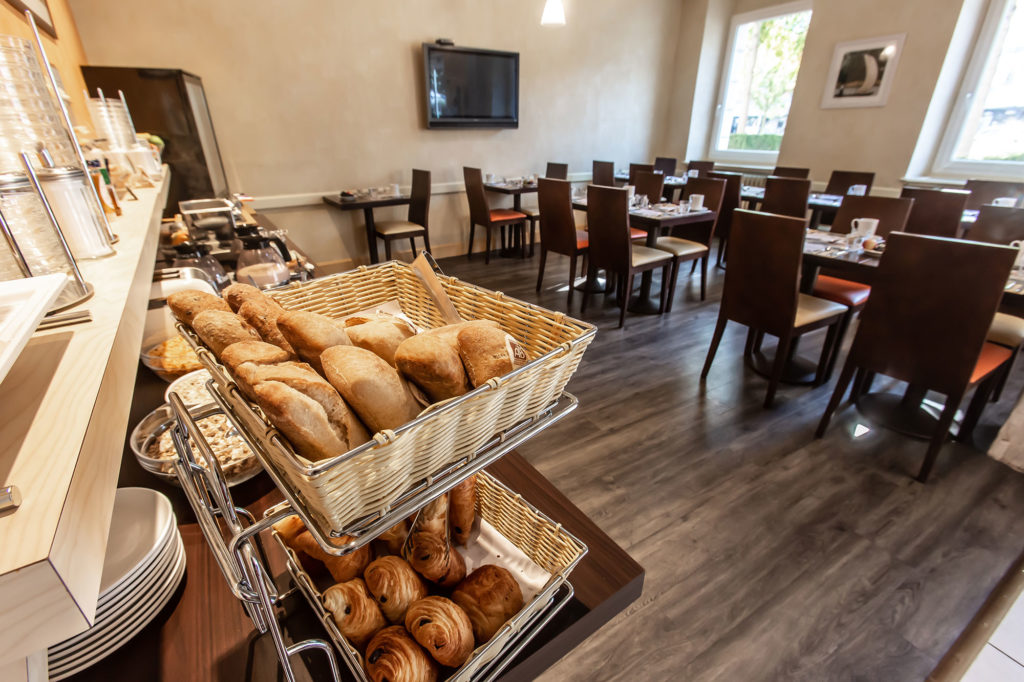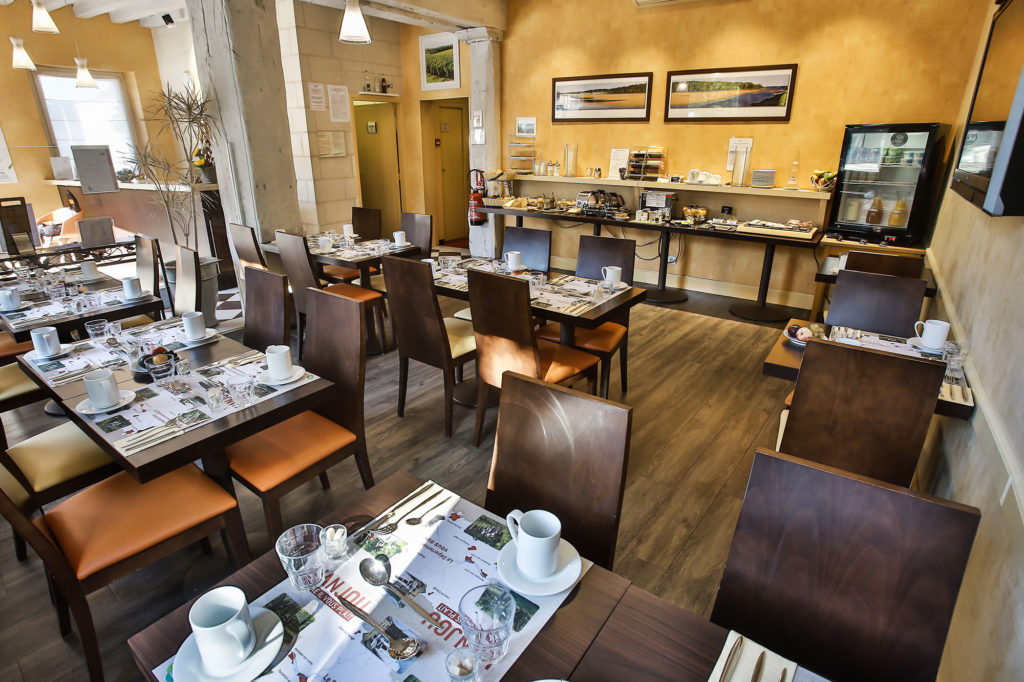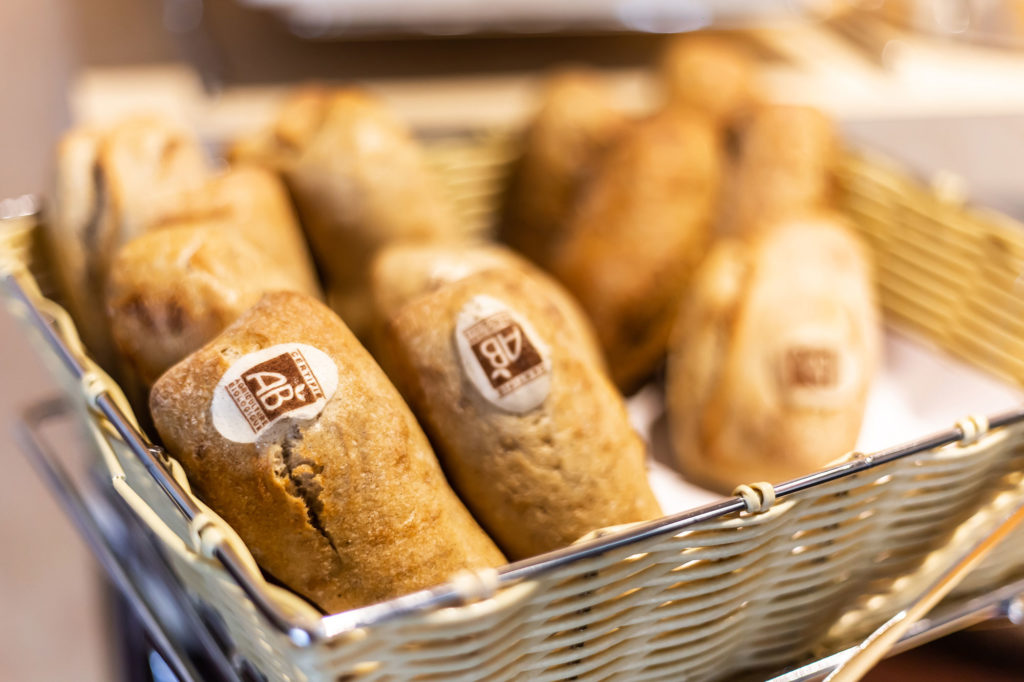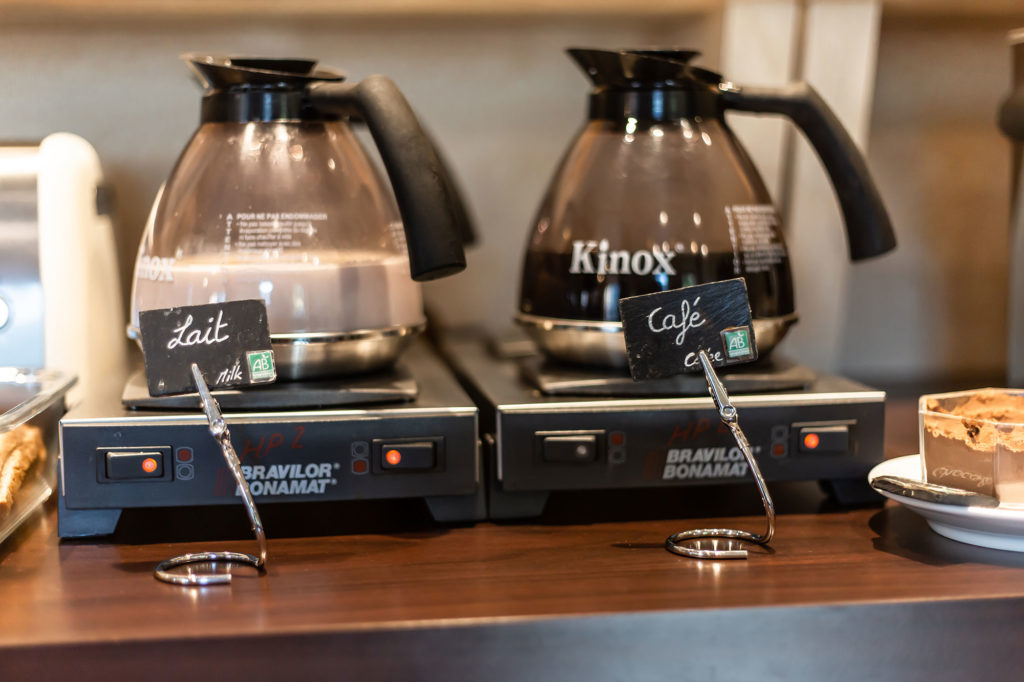 Champagne Hotel Angers is the first hotel in Angers to be certified as a European Ecolabel hotel and we are proud of it.
This label rewards our daily commitment to reduce our impact on the environment. It also guarantees that you are staying in an eco-friendly and healthy hotel, with environmentally friendly practices.
On a daily basis, our establishment team has implemented simple but effective actions for a sustainable development process with you. Small steps on a long road ahead… but together we are moving in the right direction.
The European Ecolabel is a controlled and certified approach. Several actions are highlighted:
Limiting energy consumption. Actions: turning off air conditioning in the morning, choosing energy-efficient light bulbs, etc.
Limiting water consumption.  Actions: controlling consumption and the flow of water from the taps  in order to prevent water leaks, offering our customers a choice to keep towels for several days, etc.
Enhancing the use of renewable resources
Promoting the use of substances that are less dangerous for the environment. Actions: using eco-labelled products for the general maintenance of the hotel.
Limiting the production of waste and promoting its responsible treatment. Actions: sorting waste, avoiding individualized products to reduce volumes, etc.
Promoting communication and environmental education among our employees.
Letting you benefit from our commitment.
You can help us! Four actions for the planet
Do not ask for new towels every day
Remember to turn off the lights when leaving your room
Turn off air conditioning when leaving the room
Avoid wasting breakfast (you can always have a refill!)
For more information on the ecological approach, please consult:
European Ecolabel of Champagne Hotel Angers
EU Ecolabel: FR/051/054
European Ecolabel awarded in June 2009 by AFNOR CERTIFICATION
11 avenue Francis de Pressensé
93571 Saint Denis la Plaine cedex
Champagne Hotel Angers is labeled "La Loire à Vélo".
The "Loire à Vélo" label guarantees a special welcome for cyclists. On the superb Loire à Vélo  route, the Angers historic center is an essential stopover.
Champagne Hotel Angers is a perfect base to explore downtown Angers: we are a few minutes by bike from the medieval castle.
Our hotel is also very well located to explore Anjou, Layon and its fabulous vineyards.
Between two escapes on the Loire à Vélo circuit, come and enjoy a well-deserved night's rest in one of our 29 modern, comfortable rooms. Created with our partner Vert Event, we propose a special offer, dedicated to visitors on the Loire à Vélo route.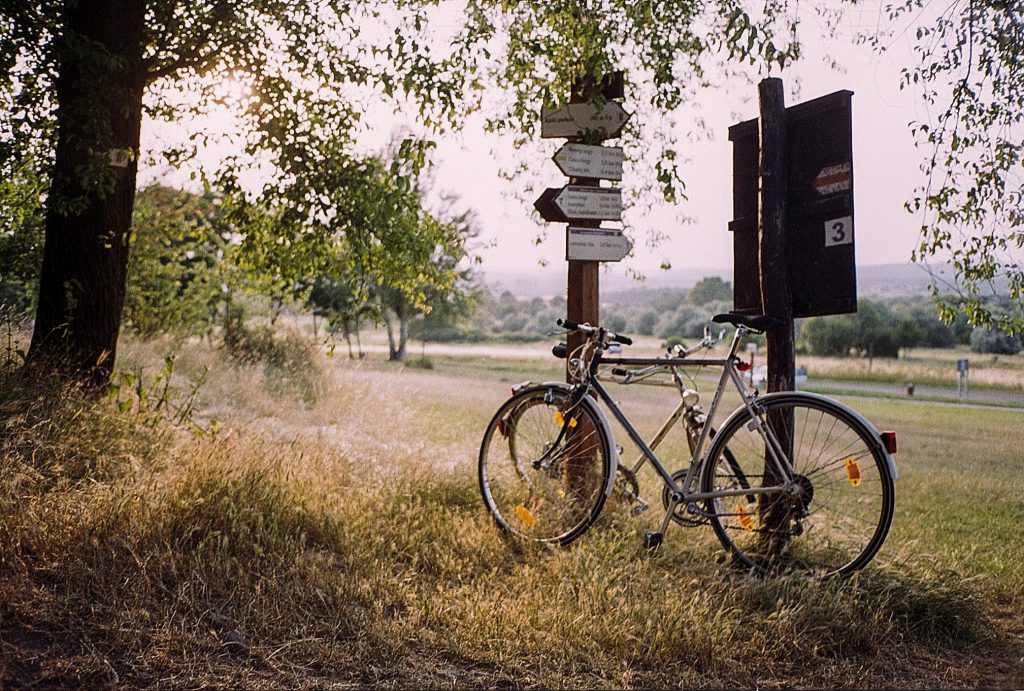 For cyclists, Champagne Hotel Angers, awarded the "Loire à Vélo" label, has thought of everything:
Secure, ground-floor bicycle shelter
Luggage locker
Organic and local buffet breakfast, adapted to cyclists' needs
Packed lunch, on order
Dedicated reception and specialized advice on the progress of the stay and the Loire à Vélo route
Bicycle rental
Reception of foreign customers